User Guide Home
&nbsp &gt &nbsp Syncrify Server &nbsp &gt &nbsp Web Interface
Web Interface
The Admin Console
The Home page provides a basic overview of your Syncrify Server.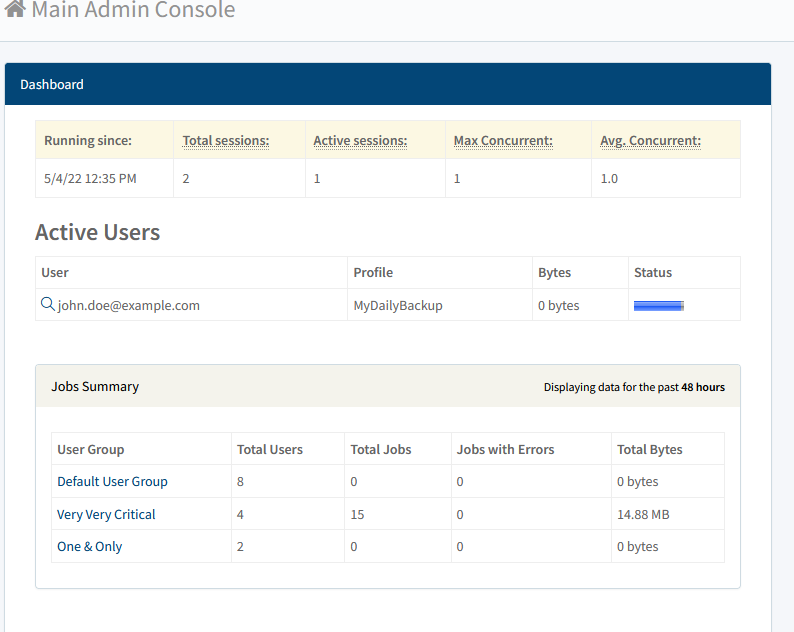 Memory Status
Used Memory - The amount of random access memory that is currently being used by Syncrify.
Allocated Memory - Even though you can specify a maximum number, it does not mean Syncrify will use that much memory on the machine. It will incrementally allocate small chunks of memory as needed.
Total Memory - Syncrify server can be configured to use a maximum amount of memory on your machine. By default, this value is 512MB. This means that memory usage can never exceed 512MB.
Disk Status
Total Disk Space - The total amount of space available on the drive or partition where Syncrify is installed. If you would like to increase the size of the disk space, you will have to move Syncrify to a larger drive or partition.
Total Used - The amount of disk space that is used by Syncrify.
Free Space - The remaining free space on your drive/partition.
Current Activity - Displays how long the server has been running, as well as the total number of sessions that have been performed between the client and the server.
Active Users - If a user is currently running a backup, the user's email address will appear here, as well as the amount of bytes that have been transferred.
The Sidebar
Quick Links are available on the right hand side of the Admin Console.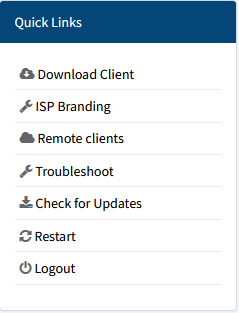 Download Client - Takes you directly to the download link for Syncrify Client.
Remote Clients - Allows the administrator to run on-demand backups directly from the admin console. Also gives the administrator the ability to submit client logs to any email address.
Don't see any clients in the list? Click
Syncrify Remote Clients
to find out some possible causes.
Check for Updates - Syncrify automatically connects to the Synametrics servers when an update is released, and this link will notify you if a new update is available.
Restart - Stops then reboots the Syncrify Service.
Logout - Log out of Syncrify Server's admin console.